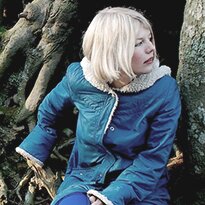 Our Broken Garden
is effectively singer-songwriter (and sometimes Efterklang pianist) Anna Bronsted plus musical friends doing sensitive things on guitar, drums, Hammond organ and strings. Their songs unfurl slowly with Bronsted's flawlessly calibrated vocals being seductively sweet yet as chilly as an icecream sundae. A distinctly Scandinavian take on matters emotional, somehow poised forever between epiphany and desolation.
«Golden Sea» was released in October 2010 on Bella Union.
Which song do you listen to when...
you come home from the club?
Søren playing his guitar while I'm falling asleep.
you take a bubble bath?
Chimes & Bells - Stand Still
you prepare a candle light dinner?
Goldfrapp - Clowns
you go to a club?
Fleetwood Mac - What Makes You Think You're The One
you run naked through a cornfield?
Kate Bush - Running Up That Hill
I often do this and I always listen to it.
you destroy a hotel room?
you want to disturb your neighbours?
you drive a car late at night?
Bat For Lashes - Daniel
From the new album «Two Suns», excellent!
you are love sick?
Munck//Johnson - Here Comes You
you make love?
Barry White - Can't Get Enough Of Your Love, Babe
you meet your parents?
Bill Evans - Waltz For Debby
you sit in a plane?
Brian Eno - Music For Airports
you stay in bed?
Cocteau Twins
you wake up?
The bird song outside my window.
you walk in the rain?
Lise Westzynthius - Cross My Heart