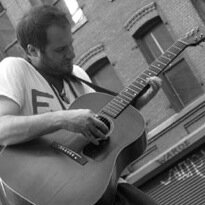 Jesse Lenat
is a singer/songwriter and actor residing in Brooklyn, NY. Jesse has played roots and rock driven music with his brother David since they were young boys growing up on a cactus farm in Pennsylvania. In those days it was mostly AC/DC. As a songwriter Jesse now plumbs the depths of the American troubadour more in the style of Woody Guthrie.
Which song do you listen to when...
you feel like 1972?
Jackson Browne - Doctor My Eyes
you come home from the club?
Nothing. If I've just been to a club I think I'd want silence at home.
you float on an air mattress in the pool?
Hank Williams - I'm So Lonesome I Could Cry
you take a bubble bath?
AC/DC - Highway To Hell
you prepare a candle light dinner?
Miles Davis - Kind Of Blue
you go to a club?
Jim Campilongo - Cat Under A Car
you run naked through a cornfield?
Jesse Lenat - Luna
you eat a cucumber?
Nothing. I'd like to listen to the spook!
you prepare for an important date?
Johnny Cash - The Man Comes Around
you want to disturb your neighbours?
Iron Maiden - Run To The Hills
you drive a car late at night?
Nick Drake - Black Eyed Dog
Nick's songs give me a sense of wanderlust and the feeling of open adventure.
you are love sick?
Joni Mitchell
She makes me feel not alone and helps me to wallow in the beautiful misery I'm in.
you make love?
Michael Hedges - Aerial Boundaries
you sit in a plane?
Nothing. I like to read or look out the window.
you shop for shoes?
Leonard Cohen - Bird On A Wire
you sit in the subway?
Jesse Lenat - Heal
you want to tell your girlfriend it's over?
Bob Dylan - Rain And Wind
you wake up?
Nothing. I like to have silence in the morning.