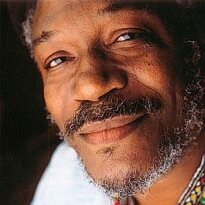 Horace Andy
became immortal in 1969 – with his track «Skylarking». In the 70's he was one of the leading voices of Roots reggae working with dub pioneers like King Tubby and Prince Jammy, before he moved to the UK in 1985. Here he first worked with Mad Professor and then saw his profile raised even further when he began collaborating with Massive Attack, going to sing on all of their five albums.
Which song do you listen to when...
you take a bubble bath?
I have never taken a bath. I think this is for ladies.
you relax on a beach?
I have not done that in years.
you prepare a candle light dinner?
I can't tell cause I can't remember when I ever do that.
you run naked through a cornfield?
you prepare for an important date?
I can't remember because I haven't in years.
you want to disturb your neighbours?
you drive a car late at night?
you are love sick?
I can't play a song because I am mad.
you make love?
I don't listen to music when making love.
you play ping-pong?
I haven't play that for years.
you have to spend a night in a spooky hotel?
I have never spent a night in one.
you stay in bed?
I can't remember staying in bed.
you wake up?
I don't listen to music. I watch the news.
Top 10 all-time favorite songs
No. 1
Otis Redding - (Sittin On) The Dock Of The Bay
(Stax, 1968). I love that song when I was growing up as a young man, because I used to love going down to the docks and watch the ships and the birds, and sing that song.
No. 2
Bob Marley - Hypocrites
(Doctor Bird, 1967). I grew up living in tenement yards and people would fuss with eachother all the time and cheat each other behind their backs and then smile with each other. That's what this tune is about: «Dem cut, cut, cut gainst 'em one another; oh, dem teach to love one another; See de 'ypocrites, dem a-galang deh! Man, go!»
No. 3
Ray Charles - Hit The Road Jack
(ABC, 1961). He is one of my favourite singers till this day and I love that song. I would love to sing it over with Marcia Griffiths one day if she says yes.
No. 4
The Abyssinians - Satta Massagana
(Heartbeat, 1976). Because of the lyrics so truthful and so real and I still love it to this day. «There is a land far, far away... where there's no night, there's only day... look into the book of life and you will see... that there's a land far, far away... Satta Massagana Ahamlack, ulaghize»
No. 5
Toots & The Maytals - 54-46 Was My Number
(Beverly, 1968). That's one of my all time favourite songs. I use to say why send a man like that to jail for a little spliff when he is Jamaica's idol. But that is so wicked Babylon stay with their wicked laws. (ed: the lyrics of the song describe Toot's time in prison for an arrest for possession of marijuana. 54-46 was Toot's prison ID number during his servitude, and the original recording was made shortly after his release. Being one of the first ska songs to receive widespread popularity outside Jamaica.)
No. 6
Bob Marley - Get Up, Stand Up
(Island, 1973). That song opened up my eyes to a lot of things. It made me so wise to what was going on around the world against oppressed people.
No. 7
Burning Spear - Marcus Garvey
(Island, 1975). It taught me a lot about the great man and make me a wiser young man to know that each one is equal in the site of the lord.
No. 8
Marvin Gaye - What's Going On
(Motown, 1971). It was about the war that was going on in Vietnam and my heart goes out to the young people dying for nothing. I think I was very sad when I heard this album for the first time.
No. 9
Bob Marley - One Love
(Island, 1977). That song is so spiritual. It's a song that has such a good meaning and if people would take a closer look at it and its meaning, we would have a better world (smile).
No. 10
Peter Tosh - Fight Apartheid
(CBS, 1977)I think that song helped to free the people of South Africa cause it was about what was going on at that time. And it helped the freedom fighters to fight much harder for freedom.