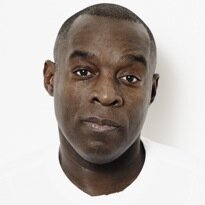 Kevin Saunderson
was born in 1964 in Brooklyn, moved in his teenage to Detroit and formed at the Belleville High School together with Derrick May and Juan Atkins the infamous Belleville Three, the triumvirate of Detroit Techno. Saunderson produced under different monikers: Inner City, E-Dancer, Reese & Santonio. He is one of the architects of modern electronic music.
«Roll On» by Kevin & Kweku Saunderson was released in November 2010 on KMS.
What is your favorite city
Detroit
I live in Detroit for about 32 years. I moved here when I was about 12, living mainly in the suburbs. It let me playing sports then on making music. I love Detroit because it has plenty of green around it in the suburbs. It's great for sports. It's very realistic for the price of real estate. I love it because we have many lakes and rivers. Detroit represents for me hard nose, hard working people. A city that has gone through hard times trying to rebound but has been a musical mekka for decades.
favorite band hailing from the city?
Probably Aretha Franklin.
favorite building?
The old train station. It's classical.
favorite club?
«Music Institute». It's not around anymore but that was the best underground club Detroit has ever seen.
best day of the week in the city?
Sundays. Because all my sports are on, all my teams play on sunday. I'm crazy for sports.
what should one eat when in the city?
where was your first flat?
That was actually on Gratiot Avenue. It was my studio, flat, warehouse – everything.
which is the best job one can have in the city?
That would probably be the governor.
where do you kiss the last time (or where would you like to)?
On Belle Isle. It's an island in the Detroit River that looks across Canada.
best movie that takes place in the city?
«Transformers». Most of that footage was shot in Detroit.
which person from the city you like the most?
The Electrifying Mojo. He was a radio personality who was unique and different.
favorite radio station?
I don't listen to radio anymore, but if I did back in the days it was WHYT.
which song fits the city the best?
Rhythm Is Rhythm - Strings Of Life
favorite sound in the city?
The sound from the sewer. There's nothing else like it.
favorite sports team?
Detroit Pistons. That's the baseketball team. They've won a few championships and have been very good over the years.
favorite street corner?
Gratiot Avenue. That's where it all came together. Myself, Derrick May and Juan Atkins lived there, we all had separate studios. That was our corner that helped us make history.