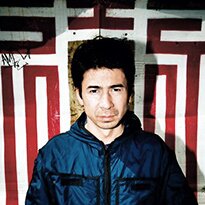 Bomb The Bass
is Tim Simeon's project that changed pop culture forever. «Beat Dis» was the first sample based hit scoring the top of the charts worldwide in 1988. For only £500 a DJ became a pop star and ushered in a new age. Over the years the London-based producer worked with artists like Neneh Cherry, Sinead O'Connor and Depeche Mode. After a 14 year work break he finally came back in 2008 and presented new songs with Jon Spencer or Mark Lanegan.
«Back To Light» was released in 2010 on K7.
a song that reminds you of school
Madness - One Step Beyond
We all use to do the nutty dance to this!
best concert you ever attended
Kraftwerk
At The Brixton Academy. I adore this band.
your boozed up anthem
David Bowie - Sound And Vision
In fact I could list a few more Bowie tracks in this section.
a song guaranteed to make you feel depressed
Kylie Minogue - I Should Be So Lucky
This song kept «Beat Dis» going to No. 1 back in 1988.
a record you fell in love to
The Buzzocks - Ever Fallen In Love (With Somebody You Shouldn't)
Doing the pogo with the girl I had a crush on. A proper date!
first record you remember
The Wombles Theme song
Classic choooon taken from the television series.
the song to be played at your funeral
Still working on that one!
a song that evokes the greatest summer of your life
Afrika Bambaataa & The Soul Sonic Force - Planet Rock
best Marley Marl track
Biz Markie - Nobody Beats The Biz
your party anthem
Technotronic - Pump Up The Jam
«Get your booty on the floor tonight»!
first record you bought
Led Zeppelin - Led Zeppelin II
Introduced to me by my aunts husband who was at that time a drummer in a German rock band.
a song you wish you'd written yourself
Depeche Mode - Enjoy The Silence