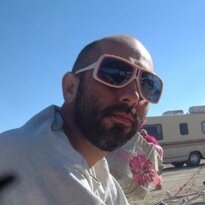 Hugh Herrera
was responsible for some unforgettable nights at the legendary Lounge Candelas in San Diego. The devoted yoga student retreated from his former life to selfless services to his guru and a monastic life. He is still DJing from time to time on special occasions though, and runs the h-track radio website.
a song that reminds you of school
The The - Good Morning Beautiful
best Beatles song
The Beatles - Sgt. Pepper's Lonely Hearts Club Band
your boozed up anthem
Peter Gabriel - Games Without Frontiers
a song guaranteed to make you feel depressed
U2 - All I Want Is You
record you were looking for the longest
Soft Cell - It's A Mugs Game
a record you fell in love to
Dan Hartman - I Can Dream About You
first record you remember
Steve Martin - King Tut
Played by my brother on an 8-track using my parent's hifi console.
the song to be played at your funeral
Archie Bell & The Drells - Glad You Could Make It
a song that evokes the greatest summer of your life
The B-52's - Summer Of Love
your ultimate heartbreak song
The Smiths - Unloveable
your liberation anthem
D-Train - Keep On
first record you bought
Kiss - Hotter Than Hell
a song that reminds your friends of you
Ernest Saint Laurent - Surf Club
a song you would use as a ring-tone
Culture Club - Time (Clock Of The Heart)
perfect anthem for San Diego
Don Henley - The Boys Of Summer
best video clip you ever saw
R.E.M. - Can't Get There From Here
5 favorite animals
Cheetah / Badger / Dolphin / Cow / Dragonfly
5 favorite bands you know personally
Nudist Priest / Third Grade Teacher / Morcheeba / Map of Africa / Project Sandro
5 favorite books
Parahansa Yogananda: «Autobiography of a Yogi» / Swami Sivananda: «Self Knowledge» / Patanjali: «Yoga Sutras» / Sri Yukteswar: «The Holy Science» / Bill Brewster & Frank Broughton: «Last Night A DJ Saved My Life»
5 favorite cartoon characters
Bugs Bunny / Bullwinkle / Peter from Family Guy / Shake from Teenage Hunger Force
5 favorite cities
San Felipe / San Diego / Ibiza / Palm Springs / Bradley Beach, New Jersey
5 favorite drinks
Kombucha / Snapple Rasberry Iced Tea / Water / Margarita / Pineapple, Honeydew, & Lime Juice
5 favorite fruits
Watermelom / Pear / Peach / Goji Berry / Red Grape
5 favorite human inventions
Turntable / Valve Amplifier / Klipschhorn Speakers / Urei 1620 Mixer / Juicer
5 favorite months
September / October / May / January / March
5 favorite personal belongings
Urei 1620 / Klipsch Speakers / Record collection / Yoga Mat / Juicer
5 favorite places in the world
San Felipe, Mexico / Dharma Yoga Center, NYC / The Bluff, Del Mar, CA / Go Raw Cafe, Las Vegas / Cap des Falco, Ibiza
5 favorite sayings
One time it through the five hole from point blank range / Mind the gap / Permanesen sentados, por favor / Mahatma / Give me the fist!
5 favorite TV shows
Modern Marvels / The Climate Code / The Last Days of WWII / Mail Call / Sports Center